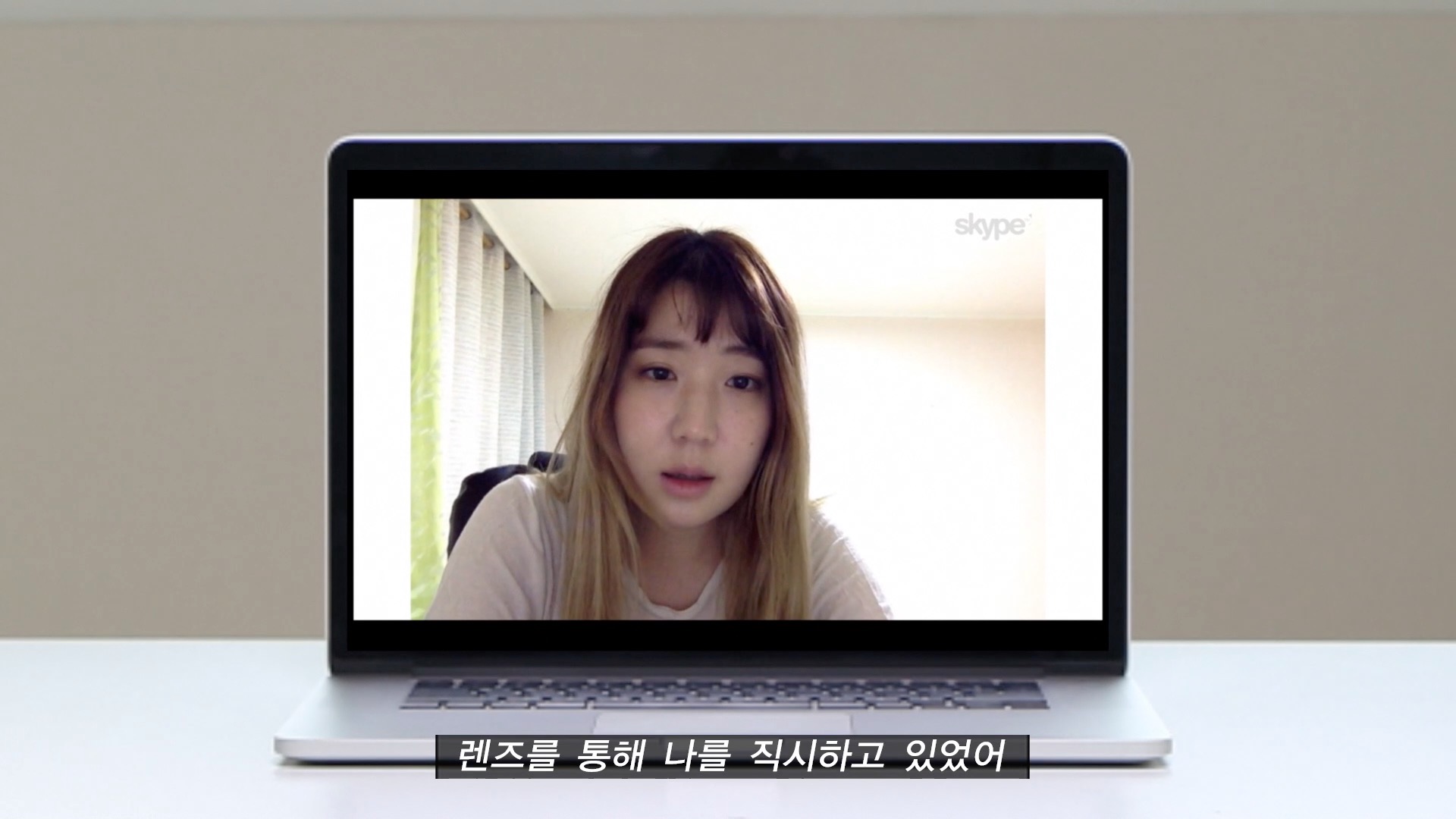 Love Me Through the Ocean and Screen
2015
Single-channel HDvideo, 00:07:15

영상은 한 여성이 멀리 떨어져 있는 연인과 스카이프 채팅을 하는 장면으로 시작한다. 그는 지난번 연인이 있는 곳을 방문해 다시 만나게 되었을 때, 상대방이 얼마나 이전과 달리 낯설고 비현실적으로 다가왔었는지 이야기한다. 이후 영상은 애니메이션 게임, 아프리카 티비, 유튜브 메이크업 튜토리얼 등, 컴퓨터 스크린 속 상체만을 띄운 여성들의 모습을 펼쳐 놓는다.

현대기술의 발달은 상대방과 내가 함께 있지 않아도 서로를 마주 보고 교류할 수 있게 만들었다. 이중 대표적인 영상통화는 연애 시뮬레이션 게임이나 '아프리카 TV'가 스크린을 통해 관람자들 혹은 게임 유저와 소통하는 방식과 크게 다르지 않다. 육체가 존재하지 않는 이미지 만으로도 애정관계를 발전시킬 수 있는 오늘날의 현상은, 몸 대신 그것에 투영되는 이미지 데이터로서 여러 공간을 넘나들 수 있게 만든다.

The work visually arranges three elements into linear sequences; Skype video chat, a dating simulation game called 'Love Plus', and 'Afreeca TV', a live web broadcasting video channel in South Korea, where the BJ(Broadcast Jacky) and the viewers can communicate through videos and texts in real time.

These three elements are interpreted as the representation of contemporary aspect of the communication between people in distance supported by tele-presence technology and digital image. While Skype video chat and 'Afreeca TV' are technically similar, 'Love Plus' turns over the situation of communication between people to a communication between human and animated images.